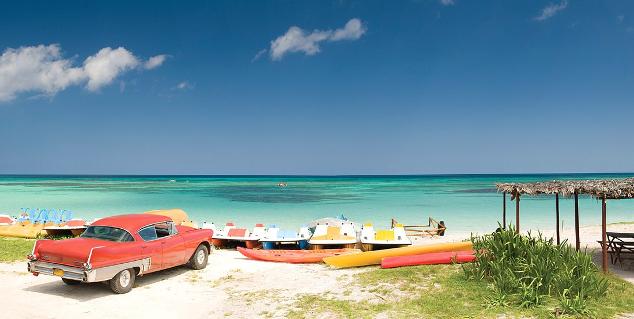 Cuba, the country where the clocks stopped for decades, is finding its way back to the future. A population desperate for change is recovering from the Cold War's longest hangover and warming once again to its closest neighbour, for so long its frostiest foe, the US. Far from becoming the American neo-colony it once was, however, this proud nation, whose stature and influence within Latin American has long outweighed its small size, is holding on tight to what makes it so special.
Salsa still runs through the veins of every Cuban, roadside billboards still declare "Socialism or death" (rather than "Sale now on"), world-class ballerinas and baseball players continue to work for a state salary, and the island's breathtaking beaches and forest-covered mountains aren't going anywhere.
prices from £
Cayo Coco, Jardines del Rey
Situated overlooking a beautiful stretch of beach and between natural lagoons, in the paradisiacal Cayo Coco, to the north of the province of Ciego de Avila. Inspired by the rich history of Cuba, with grounds of colonial buildings and cobbled streets, which make it back in time to a past of passions.
prices from £
Varadero, Western Cuba
Located next to the Gaviota Marina and a short distance from the Ecological Park at Punta Hicacos, this all inclusive property offers spacious and comfortable accommodation on a beautiful two kilometre stretch of unspoilt white beach
prices from £
Havana, Western Cuba
The Four Points by Sheraton La Habana Hotel sits in the modern part of Havana known as Miramar. It is easy to access from Havana´s main international airport (approx. 25 minutes by car) and 20 minutes away from Old Havana via Miramar´s 5th Avenue and the city´s famous waterfront Malecon.
prices from £
Cayo Ensenachos, Jardines del Rey
The hotel is located on Ensenachos key, on Cuba's north coast, lined by beaches of breathtaking beauty, and it is 5 minutes from Cayo Las Brujas Airport. This is the only construction on this unspoilt horseshoe-shaped key which is just a short distance from two beaches bathed by crystal-clear waters.
prices from £
Varadero, Western Cuba
A 5-star exclusive hotel for adults only, surrounded by fabulos beach of Cayo Libertad, this luxurios hotel is situated in a marvellous location surrounded by lush gardens and wildlife. Stunning sea views and superb service . Blau Privilege Cayo Libertad is connected by a bridge to Blau Marina Varadero.
prices from £
Varadero, Western Cuba
The Iberostar Laguna Azul is a 5* property located on a beautiful stretch of Varadero's Beach. Approximately 160 km from Havana city and 20 minutes from downtown Varadero. Room Details: 814 spacious and elegant rooms allocated in different buildings, 24 are suites and 8 are for handicapped; all the rooms have bathtub /shower/WC, hairdryer, telephone, satellite TV, air...
prices from £
Trinidad, Central Cuba
Located in the heart of the town of Trinidad. This a jewel of colonial architecture founded in the 16th century and declared World Heritage by Unesco in 1988. Just 2 km. from Trinidad regional airport and 247 km. from Cayo Coco. The hotel is approximately 335 km. away from the capital city of Havana. For adults of 15 years and over. 40 comfortable rooms all beautifully arranged
prices from £
Cayo Santa Maria, Jardines del Rey
This hotel is located in a privileged and ecologically rich location to the east of Cayo Santa Maria and is surrounded by beaches and coves. The entire hotel offers Royal Service, which is recommended for couples, weddings, honeymoons and spa. Royal Service gives guests personalised attention superior comfort and refinement The Meliá Buenavista has been designed for.
prices from £
Cayo Coco, Jardines del Rey
This superior property overlooks a beautiful white sandy beach and a natural lagoon in luxurious and picturesque surroundings, and offers a comprehensive range of facilities with a touch of elegance. For adults of 18 years and over. Room
prices from £
Varadero, Western Cuba
Regarded as one of the most luxurious properties in Varadero, the Melia Las Americas is one of Sol Melia's flagship hotels. Offering a wide choice of all inclusive facilities in elegant and peaceful surroundings and situated directly on Varadero beach.
prices from £
Santiago de Cuba, Eastern Cuba
Within a short drive of the city centre, the Melia Santiago is built in an ultra-modern style offering a wide range of comforts and affording excellent views over the city. This is the only 5-star hotel in the second most important city in Cuba.
prices from £
Guardalavaca, Eastern Cuba
One of the finest hotels in Cuba, the Paradisus Rio de Oro is a sanctuary in which to relax and enjoy the outstanding natural setting of the hotel is set in extensive tropical gardens. On a stunning white sandy beaches.This hotel is for adults 18 years and over...