If you can't find what you are looking for please
send us an enquiry or call on 020 8133 4959
TURKEY SelectionFREE NIGHT STAY!
Book with us and recieve a FREE night based on a 14 Night stay
This extraordinary and stunning canyon-top property is without parallel in Turkey – indeed it is difficult to think of anywhere in the Mediterranean that is quite like The Dionysos. Positioned high in the mountains overlooking the bay of Kumlubük, the property offers sweeping and dramatic views and the distinct impression that the whole mountain is your private domain. The aim of the owners, Ahmet and Rim was to create a special and unique environment, completely removed from the orthodox tourist experience – where service comes first and guests can relax in a truly stunning setting. They have most certainly achieved this, with the result that The Dionysos has been featured three times on a major television holiday programme and in several broadsheet articles including the Times, Sunday Times and Observer.

Facilities include
Swimming pool, Free High-Speed Internet, 3 Restaurants, Fitness/Health center, Clarins spa, Beauty centre, Jacuzzi
,
Canyon – top hot tubes and Library, DVD cinema and billiards rooms.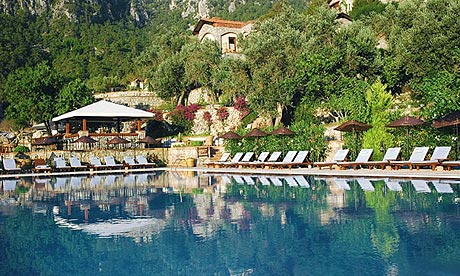 FREE NIGHT STAY!
Book with us and recieve a FREE night based on a 14 Night stay
A sophisticated boutique hotel nestling on a hillside in Kalkan Bay. Here at the Villa Mahal, each step you take offers a picture perfect view of the Lycian Coast and divine Turkish Mediterranean. You arrive at the Mahal's reception from the dusty track outside, and crossing the threshold you quite simply enter another world. The picture post-card spot was hand-picked by the owner Ipek when she first moved to Kalkan over 25 years ago, having gathered all in one place the essential ingredients of an award-winning boutique hotel.

Facilities include
Infiniti Swimming pool, Free High-Speed Internet, 2 Restaurants, Beach Club and spa.
FREE NIGHT STAY!
Book with us and recieve a FREE night based on a 14 Night stay
Flamingo Country Club on Tuzla Lake is lining up to become the number 1 holiday destination on the Bodrum peninsula thanks to its 5* facilities, fabulous location in
Güllük which is a small harbor town with own municipality within the district of Milas, situated north of Bodrum in Muğla Province of Turkey. It is a small Turkish town and growing holiday destination, with the town being pleasantly developed with a range of tourist amenities.
Flamingo Country Club comprises of apartments and villas built around the hillside - many with their own pools - and has been designed with a contemporary look on the traditional white/cream washed Bodrum houses. Holiday luxuries can become the norm; for more than 8 months of warm outdoor life enjoy the setting over Tuzla Lake or the valley views from your balcony, roof terrace or relaxing in the open air restaurants..
Facilities include
Apartments and villas offered through the Flamingo Country Club Owners Group are individually furnished with a contemporary look and feel to emhasise space and colour. Every apartment and villa has balconies and terraces and many have spacious private roof-terraces for al-fresco living and dining. Ground floor apartments and villas all have private gardens.
Many of the apartments overlook the lake to Vita Park Golf Resort beyond while those on the top of the resort also have fabulous panaramic sea views.


FREE NIGHT STAY!
Book with us and recieve a FREE night based on a 14 Night stay
Turkuaz Hotel is a boutique family run hotel located in Sarigerme near Dalaman. It has a great location on the hillside above Sarigerme village and has fantastic views of the sea, right across Sarigerme Bay.
The hotel
has been open for 10 years and is built in the Ottoman style with whitewashed walls and has a beautiful swimming pool and sun terrace.
Whether you want a relaxing family holiday, a romantic getaway, or a base for touring the many sights, Turkuaz Hotel is a great place to be!
If you are looking for a special hotel in Sarigerme or the Dalaman area, then Turkuaz is the place for you.
Facilities include
hotel restaurant
,
sun terrace
&
swimming pool.

FREE NIGHT STAY!
Book with us and recieve a FREE night based on a 14 Night stay
This impressive family-run establishment is in a tranquil setting surrounded by countryside yet convenient for the resort villages of Hisaronu and Ovacik. Close to the historic town of Fethiye and the beautiful Oludeniz Blue Lagoon, Sea Breeze is perfect for your Turkish holiday.
At Sea Breeze Hotel and Apartments they take every aspect of guests' holidays very seriously indeed, so when you arrive all you have to do is relax and take it easy. With this in mind they have a comprehensive range of accommodation designed to suit everyone

.
Facilities include
fully equipped gym, Sauna Jacuzzi, Mini-Golf, Big Screen SKY-TV, Children's Playground, Billiards, Table Tennis, Wireless Internet
.
Turkish Bath, massage and a full range of
beauty treatments
also features a
large 200m2 swimming pool which incorporates a children's section and a spacious poolside terrace which offers plentiful sunbeds &
umbrellas
. There is also a adult-only pool which is located on a separate secluded terrace.
FREE NIGHT STAY! Book with us and recieve a FREE night based on a 14 Night stay

Oscar Apartments are
set in a quite location on the outskirts of Hisaronu in the village of Ovacik

.
This is a family orientated complex

and
the apartments are in a idyllic location surrounded by mountain scenery on every aspect.
These
lovely contemporary apartments in

Ovacik offers the opportunity to laze and watch the world go by and has e
verything on offer for the perfect home abroad.
Ovacik is a traditional resort whuch has a selection of Turkish Restaurants, Bars and shops catering for all your needs. Holidaying at the Oscar Apartments give you the opportunity to have either a laid back or action packed holiday as you choose
.
Facilities include
Shared outdoor pool.


FREE NIGHT STAY! Book with us and recieve a FREE night based on a 14 Night stay

This a
Small, quiet hotel and apartments

in Yalikavak on the Bodrum peninsula. This hotel has a unique location which offers Panoramic sea views, stunning sunsets. Situated in a park with a large, beautiful swimming pool.
The view is marvelous, the rooms luxurious and the breakfast excellent

,
Lavanta offers the unique experience of feeling like the personal guests of Tosun and Maria Merey, the charming and hospitable owners

.
Yalikavak is on the north-west coast, and is a small market-town
complete
with old wind mills and a small marina, is still unspoiled and picturesque.
Facilities include
Sea view from all rooms and apartments, beautiful park,

Large outdoor swimming pool,
Internet access and Restaurant.


The Arhalya Stone House is a
Akyarlar guesthouse
which
is just 80 metres from the beach. The hotel
is located in a unique village which has managed to retain its traditional feel. Its sleepy streets are lined with wild flowers and family-run restaurants serving the catch of the day. The beach is the real star, though – Forbes magazine voted it one of the most luxurious stretches in the world. Take one look and you'll understand why. Dramatic cliffs plunge down to cobalt waters, while soft white sands are backed by a ribbon of greenery.

Facilities include
dining terrace and garden bar. Wi-Fi is free in public areas, swimming pool
.
The Galata Residence Boutique Apart Hotel is located next to the Galata Tower in Istanbul, from which, legend has it, Hazerfen Ahmet Celebi, using his handmade wings, flew to Eminonu on the other side of the Bosphorus. The famous Istiklal Street is just 500 metres away and Sultanahmet, the historical heart of Istanbul awaits you on the other side of the Golden Horn.

.
This 120-year-old building is drenched in history and yet totally equipped with all modern conveniences.
Facilities include
Public car park at 10 metres, Child not requiring bed
FREE
, Lift, Left-luggage office, Pets allowed
FREE
, Complete bathrooms 1, Floors from the street: 4, Internet
access
, Tea pot, Microwave oven, Private bedrooms 2, Safety deposit box, Fridge, Toaster, Distance to nearest public transport 127 metres, Towels & sheets
FREE
.
In the multi-cultural and colorful city of Istanbul, we offer you a luxurious and unique experience at the lively heart of the city where history, culture and colorful night life are intertwined for a peaceful repose.
Consisting of 16 rooms in 2 separate, yet connected historic buildings, Rooms Galata has been restored with contemporary techniques that meet the needs of modern living.
There is a unique rooftop terrace overlooking the sea
view
of Istanbul, the secret court yard opening from the cosy lounge with bar and a separate TV room are designed to meet the guests' comfort.
Various places of visit such as the Galata Tower, art galleries, museums, theaters, restaurants, bars and night clubs are within 5-10 minutes walking distance.
Facilities include
Sightseeing
, Meals and drinks with
view
, Sailing on the Bosphorus with a sailboat of Rooms Galata
, Airport transfers with conracted taxis (paid by client)
, Possibility to dry-clean or laundry
, 24 hours
security services
,
Wireless Internet – free.
Camli Kosk Hotel is an ottoman mansion converted into a hotel and is a boutique hotel run by a family. It's located in Sultanahmet on the European side in the heart of the historical peninsula near to the shoreline of the Sea of Marmara, walking distance to all the major attractions and approximately 15 km from Ataturk International Airport.
It's possible to walk to the Blue Mosque, Aya Sophia, Topkapi Palace, Grand Bazaar, Spice Bazaar, Hippodrome, Suleymaniye Mosque and Gulhane Park where the flower lined pass will lead you to a row of tea houses on the Bosphorus. Also, you can hop on a tram and be in Taksim, the shopping and entertainment district, in 10 minutes. car rental Istanbul

.
Facilities include
a welcoming reception, wireless internet access, air-conditioning, tourist information and central heating.
Camli Kosk Hotel has a restaurant serving a buffet breakfast and lunch and dinner can be taken here too. Camli Kosk Hotel has a lobby bar with a welcoming atmosphere.